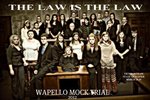 2011/12 Mock Trial Team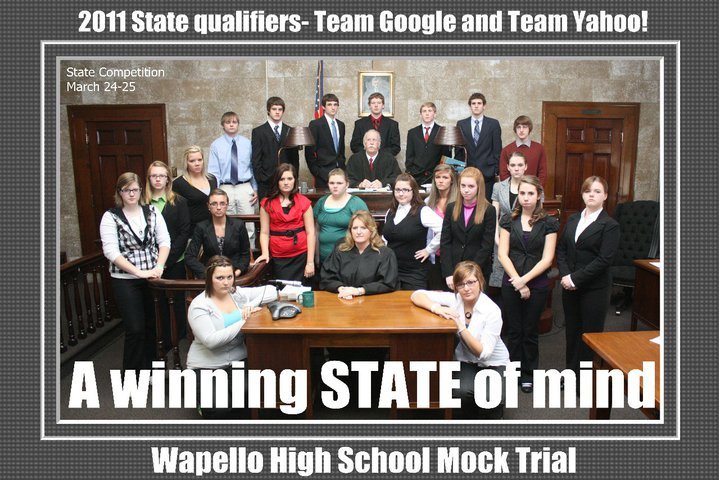 The Wapello Mock Trial Team set both a school and regional record in 2010/11 by being the first Mock Trial team from WHS and the Southeast Iowa Region to make the Final Four at State competition. Team Yahoo finished 3rd in the state in 2010/11.
March 25, 2011 – Iowa State Mock Trial Competition - The Polk County Convention Center in Des Moines, Iowa, was filled with 320 students plus coaches, attorneys, parents, judges, and members of the Iowa Bar Association, a standing-room-only crowd of probably 700-800 people waiting for the winners of the state Mock Trial competition to be announced. Students from the Wapello Mock Trial Teams waited anxiously, hoping their names would be called in the top ten finalists, something that had never been done in Wapello's history.
Disappointment began to cross the faces of these students as the places were announced, and teams screamed, cheered, and ran to the front to pose for a photo with their new trophy. 10th, 9th, 8th, 7th, 6th, 5th. All the trophies were given out for the day. Wapello students, accepting their fate, began to make plans for a relaxing evening.
Before anyone could leave, the top 4 teams that would move to the final round and compete the next day at the Polk Country Courthouse (a substitute for the usual Supreme Court Building) had to be announced. They began with 1st place...Valley High School, Des Moines. 2nd - Robins, Cedar Rapids. 3rd - Urbandale. Each time teams jumped to their feet and cheered. Now for the last team to compete in the finals...Team LZC from Wapello! DEAD SILENCE. Wapello folks looked at each other for 10 seconds at least, wondering if their ears had deceived them. Then screams, cheers, hugs, and tears! Disbelief was mixed with extreme joy and also with fear of competing with the top teams in the state the next day. IT WAS A SIGHT TO SEE!!! It was literally like a scene from a movie.
The Wapello Team Google went on the next day to claim 3rd place in the state, losing by only 3 points to Des Moines's Valley High School, the 2011 Iowa State Champions. Wapello set both a school and Southeast Iowa Regional record in 2011 and returned home to a jubilant crowd of fans.
How Mock Trial Participation Benefits Students:
• Development of intense research and analysis skills
• Formal style of public speaking skills
• The ability to "think on one's feet"
• Formulating superb organizational discipline
• Fostering leadership attributes
• Having a stellar program to list on college applications and scholarships
• Nurturing long-term networking relationships with attorneys and other professionals.
Email from a 2010 WHS graduate, Drake University student, and former Mock Trial member...
eye contact + look like you know what you're talking about = good
Hi Mrs. Doolin!
I don't know if I ever told you what my major is, but I recently switched to being an international business major. I am constantly having to talk with business professionals at career fairs and other events Drake sets up for us. These events have made me realize how much Mock Trial has actually helped me.
I am constantly being told by professors, business professionals, and even during interviews that I have great eye contact. Downside, professors think I know what they're talking about when sometimes I really don't haha- but it's my great eye contact and ability to look like I know what's going on that gets me called on in class. Well, I just wanted to thank you and Roger for these great skills, so thanks!!
Mock Trial Attorney/Coach Roger Huddle
Honored for 27 Years of Faithful Service to WHS
The 2010/11 Mock Trial Team has dedicated the new Mock Trial trophy case to local attorney and longtime WHS Mock Trial Coach, Roger Huddle. Roger has been the backbone of the Wapello Mock Trial program. He has worked with a number of teacher coaches throughout the years to lead WHS students to a long history of excellence. The funds for the trophy case came in part from the Mr. WHS Pageant and in part from a grant from the Community Foundation of Louisa County.
Maintained by Lori Doolin, Mock Trial Coach